Those folks who say good things never last, well, they must ride a different brand of motorcycle. While it's not quite forever, 107 years is a pretty long time. That's how long Harley-Davidson's V-Twin engine has been around. Perhaps even more impressive, is that in that entire time, just eight legendary designs have powered the millions of motorcycles ridden off H-D assembly lines; fabricated in high-end custom shops; and hammered together in dusty, dimly lit garages. Only eight V-Twin motors in 107 years. Until now...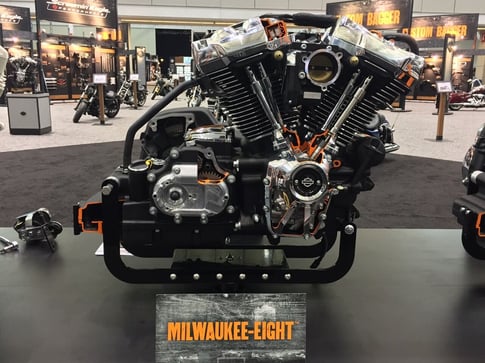 2016 will go down in motorcycle history as the year that Harley-Davidson gave us the Milwaukee-Eight, the ninth in the lineage of the company's iconic Big Twin engines and the most powerful one H-D has ever built. Down the road, Harley's Milwaukee-Eight will share conversation and swap meet counter space with words and labels like "Flathead," "Knucklehead," "Pan" and "Shovel." And, while those last four motors carry an almost mythical status, we've gotta be honest … the Milwaukee-Eight might just be Harley's best engine yet. Why? Because you helped build it.
Here at Indianapolis Southside Harley-Davidson, we love touring motorcycles. At the Crossroads of America, our city is one of the nation's best starting lines for any great road trip. As the state's oldest Harley dealership, we know these machines better than most. The coolest thing about the new engine is that Harley-Davidson reached out to all types of people to get input and feedback on how best to build it. Harley fans, folks who ride other brands … even first-time riders and those who don't own a bike yet but are considering the Bar & Shield name. H-D did its homework and got an A+ in our book, by taking the time to actually listen to people in order to find out what riders really want in a touring motorcycle.
So, here's the big question - what do years of research, testing, and engineering give you, the rider? Let's take a look:
More power, thanks to larger displacement and higher compression
Quicker acceleration (we're talking two to three bike lengths faster from 0-60 mph)
Improved rider and passenger comfort, due to enhanced heat management

Improved fit, because of narrow primary and optimized air cleaner shape
Reduced vibration that comes from an internal single counter balancer
Richer exhaust notes resulting from less mechanical powertrain noise
Lower idle speed for even better sound and less heat
Improved charging (50% more output to meet increased touring accessory needs)
Eight serious improvements that make H-D's ninth V-Twin their new #1.
We know you've heard about the Milwaukee-Eight engine. Powersports writers and motorcycle fans, even the competition, can't stop talking about it. But have you heard the engine itself, in person? Have you felt exactly what it can do? Indiana's oldest Harley-Davidson dealership invites you to experience Harley's new Milwaukee-Eight Big Twin for yourself. Come on down to Indianapolis Southside Harley-Davidson and schedule a free test ride. Or, book a test ride online from just about anywhere. Whether you're a veteran of touring motorcycles, ride another style, or are brand new to bikes, we guarantee you'll love this new motor and the new machines it powers. Stop by and see what all the talk is about today.