Funny how trouble always seems to rear its ugly head right when we least expect it. When things go wrong, they rarely go wrong at a time or place that is convenient for us. And although Harley-Davidson motorcycles are built tough to withstand years of hard riding in the roughest of environments, trouble can and does catch up from time to time.
Don't wait for it to find you; protect yourself and your bike with the H-D Extended Service Plan, available at Indianapolis Southside Harley-Davidson.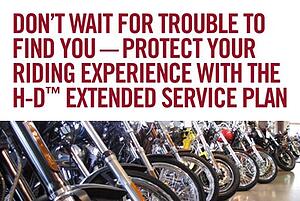 This program isn't some gimmick that doesn't really cover anything. On the contrary, Harley-Davidson has designed a comprehensive protection plan packed with exclusive benefits for you, the owner. In fact, the H-D Extended Service Plan is the only plan of its kind that is factory-endorsed by Harley-Davidson. Simply put, you won't find something this good from anywhere else.

We have compiled a short list featuring some of the many perks included in the H-D Extended Service Plan. These assurances include:



Mechanical breakdown coverage on more than 1,100 parts.
All repairs will be performed by the experts at Indianapolis Southside Harley-Davidson or the H-D dealership of your choice, using genuine H-D Motor Parts.


Nationwide repair location assistance.
The H-D Service Center can help you find the nearest H-D dealership for repairs of your covered breakdown.


Rental reimbursement.
$75 per day (up to $750 maximum) for rental vehicle charges after a covered breakdown.


Travel/lodging reimbursement.
$150 per day (up to $450 maximum) per occurrence for meals and lodging if your road trip is interrupted by a covered breakdown.


Contract transfer.
Selling your motorcycle? You may transfer any remaining plan coverage to the next owner. This can easily increase the bike's resale value.

Best of all, this Motorcycle Service Plan is available on any new or qualifying pre-owned Harley-Davidson motorcycle! Contact Doug Cummings, our F&I Business Manager, for more information and a full list of plan details.
Ride smart and rest assured that Indianapolis Southside Harley-Davidson has you covered, long after you walk out of our dealership doors. Visit us today to learn more.