Nothing says summertime quite like warm sunshine above and the open road ahead. That's right, folks, touring season is officially here and it's time for a motorcycle road trip. Whether you're riding around town or gearing up for an epic road trip, now is the time to get the most use out of your Harley Davidson motorcycle. To enhance your riding experience, Harley Davidson offers a wide range of touring products fro increased comfort and added convenience.
New riders and touring veterans alike realize the importance of comfort and convenience while exploring new places on their bike. That's why Indianapolis Southside Harley-Davidson carries many great products no matter what kind of Harley you ride or where you ride it. Talk to a parts & accessories specialist at Southside Harley today and tell us about your riding style. We'll teach you what you need to know, and get you set up and ready to go.
Here are 5 motorcycle road trip tips to tour in comfort on your Harley-Davidson motorcycle. These licensed products are sure to make your motorcycle road trip better.
1. Foot controls
Feet and legs get tired on long rides. Equipping yourself with the right parts means more comfort and fewer stops along the way. Don't settle for anything less than official Harley-Davidson products like:
Adjustable Highway Peg Mounting Kit – With long and short angled options, these kits offer versatility for taller and shorter riders.
Rider Running Board – Longer and wider footboards let riders stretch out, relieving muscle tension and reducing fatigue along the way.
Rider Footboard Heel Guard – Love your Harley but hate cleaning those rubber scuff marks off your exhaust shield? Protect your boots and your bike at the same time.
2. Comfort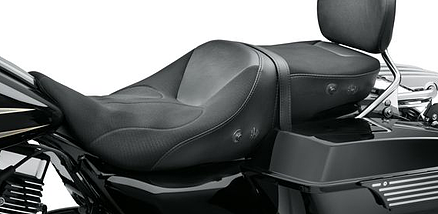 A hard seat is no way to enjoy the great outdoors on your Harley-Davidson. Check out the Road Zeppelin seat, with a unique air bladder system that evenly distributes weight across the entire seating surface for you and your passenger. Get rid of pressure points and enjoy the added comfort of enhanced shock absorption and reduced vibration.
3. Luggage products
No one understands your riding habits better than Harley-Davidson. And it shows with such a huge variety of adjustable luggage options. Genuine H-D luggage offers reflective trim, integrated rain covers, secure mounting systems and more, all accented with that unmistakable Bar & Shield logo. No matter where you go or how long you stay, Harley has the right luggage for you.
4. Audio
Bringing some tunes with you on the road? Equip your motorcycle with Boom! Audio components, exclusively from Harley-Davidson. Featuring premium speakers, amplifiers, and other audio upgrades, these products are designed for Harley riders and their favorite motorcycles.
You can leave your maps behind and let the Road TechTM zumo® 665 be your guide. This motorcycle-friendly navigator is more than just a GPS unit – it offers options such as continuously updated satellite weather and traffic information as well as stereo Bluetooth® and SiriusXMTM Satellite Radio. This item is only available for purchase in-store so stop in and get more information.

These are just a few of the countless options we have in stock at Indianapolis Southside Harley-Davidson. Want to see what's new for 2014? Visit Southside H-D today, where you can learn more about official Harley-Davidson touring products, get demos, and try items out for yourself.
Indiana is the Crossroads of America. Before you choose a road of your own this touring season, let Indianapolis Southside Harley-Davidson get you there in comfort, style, and safety.