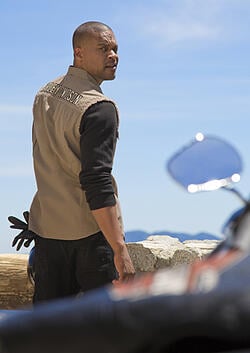 This is what you have been waiting for – the summer riding season. But along with this much-anticipated time of year comes some hot-weather riding. You have to deal with heat from the sun, ambient heat from the road and heat generated from your motorcycle. Harley Davidson offers a number of products that are designed to help keep you cool and comfortable while in the saddle.

The key to maintaining comfort during hot-weather riding is proper air circulation, whether it is deflecting hot air away from you or circulating cooling air toward you.
Check out the following HD Accessories that are sure to help cool you down on hot summer days.
1) MID-FRAME AIR DEFLECTOR
This Mid-Frame Air Deflector, designed specifically for severe duty and extreme temperature applications, will improve your comfort during the summer riding season. The kit includes all required mounting hardware.
Here's how it works:
» Inconspicuous black deflectors attach to the frame and surround the top of the rear cylinder head
» The scoop shape captures the moving air and uses the flow to direct the heat down and away from you to improve comfort
Available for Dyna® and Softail® models.

2) VENTILATOR WINDSHIELD
With the use of side-mounted vents, you can adjust the airflow from the Ventilator Windshield to match your riding conditions. Opening the vents will redirect the air across your chest for a cooling effect and closing the vents will provide maximum wind and weather protection
3) MOTORCYCLE COVERS
Motorcycle covers, such as the Harley-Davidson® Oasis Day Cover, will do an excellent job of keeping your bike cool and protecting it from UV rays while it is parked. Lightweight and compact for travel, the easy-to-store Oasis Day Cover rolls into the built-in bag. With rear hook-and-loop closures, the cover can easily slip over your motorcycle's antennas, and the elastic bottom hem and footboard stirrups ensure a snug fit.
4) SADDLEBAG COOLERS
Perfect for hot summer rides, the Harley-Davidson® Saddlebag Coolers are fully lined and insulated to keep beverages cold. These zippered bags conveniently fit right into your existing saddlebags and have room to keep up to twelve 12-oz. soda cans cold. Available in Slant or Square Style.
5) SADDLEBAG GUARD BAG AND WATER BOTTLE HOLDER WITH BAR & SHIELD LOGO
The storage section of the Saddlebag Guard Bag features a hook-and-loop outer closure as well as a zippered inner closure to keep items such as sunglasses, wallets and cell phones secure while still allowing easy access. This bag also features a removable water bottle with the Bar & Shield logo, providing convenient access to water anytime on long rides, making it a great warm-weather product.
6) CIRCULATOR SEAT AND BACKREST PADS
The 3D construction of the Circulator pads promotes air movement and reduces heat buildup where your body touches the seat or backrest. Designed to keep you cool by reducing the perspiration buildup between you and the seating surface, the Circulator Pad can be installed or removed in seconds for easy cleaning. The low-profile design minimizes seat-height change compared to inflatable pads, while enhancing comfort with its shock-absorbing construction. Manufactured of UVstable materials, these pads resist fading when exposed to the sun. The elastic under-seat strap and non-slip base provide secure installation. A complementary Circulator Passenger Pillion Pad, which attaches to the rider pad with hook-and-loop tabs, is also available.
7) FAIRING LOWER DETACHABLE HARDWARE KIT
A great way for you to beat the summer heat and prepare for around-town cruising is by removing the fairing lowers on your Ultra Classic® Electra Glide® model. This kit includes highly polished stainless steel clamps that are detachable without the need for tools.
In addition to HD Accessories, here are some other tips to keep in mind when riding in hot weather.
AVOID OVERHEATING AND DEHYDRATION
To keep yourself cool and in control when summer temperatures climb, you must also keep your body temperature in the proper range. Riding when the outside temperature is greater than 90 degrees can be dangerous to your health. Unless you take the proper care to keep your body temperature under control, rides as short as an hour can result in heat exhaustion or heat stroke. Other suggestions include: -keep your trips short -take frequent pit-stops, -drink plenty of water throughout your day and trip -wear breathable riding gear designed to let your body cool down. Below are a few examples of available hydration gear.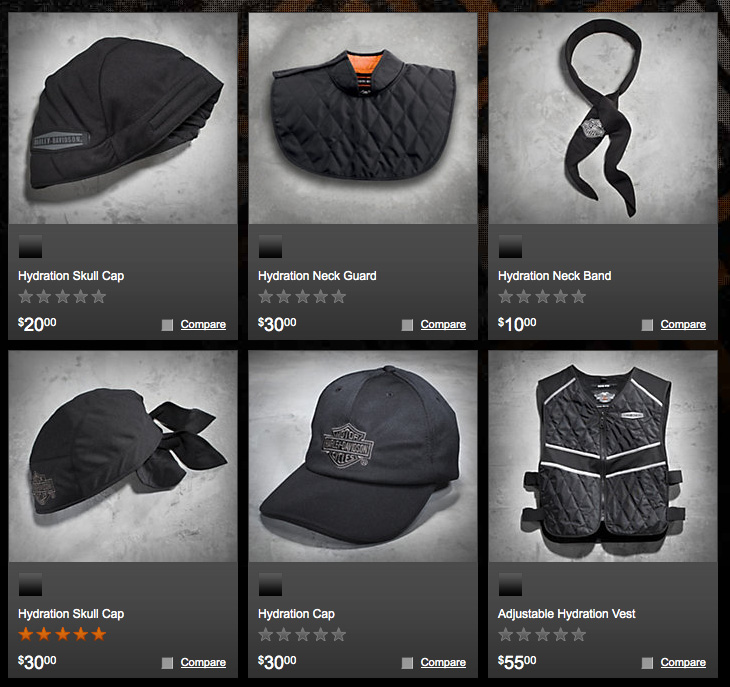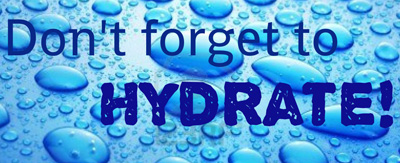 When you're riding along on a hot day, the wind rushing by can quickly whisk away perspiration, nature's cooling system. It's easy to become dehydrated without even realizing it.
If you feel fatigued or flushed, or if you suffer cramping in the arms and legs, see darks spots, or are dizzy, you are likely suffering from dehydration. If left untreated, dehydration can lead to heat exhaustion. Heat exhaustion in turn leads to heat stroke, which can creep up on you, and it can be deadly! Symptoms of heat stroke are headache, dry skin, and disorientation. Extreme cases involve complete loss of consciousness.
Lack of fluids is the number one trigger of daytime fatigue, and even a mere two percent drop in body fluids can result in fuzzy short-term memory, confusion, and difficulty focusing. Not something you want to experience while on your bike!
How can overheating and dehydration be prevented?
Take precautionary measures, including the following:
· Drink plenty of fluids, especially on hot, sunny days. Drink at least a quart of liquid before you leave and then at least that much every hour you're riding, more if it's really, really, hot. Avoid tea, coffee, soda, and alcohol, as these can lead to dehydration. Drink appropriate sports drinks to help maintain electrolyte balance.
· While riding, take frequent drink breaks and keep your body cool by misting with water or using a wetted neck/head wrap. Rest in a shaded or air conditioned area when stopped.
· Make sure you are taking in more fluid than you are losing through perspiration. A good rule of thumb is you should need to urinate every time you stop. Try to schedule your ride during the cooler parts of the day, such as early morning and late afternoon.
· Wear lightweight, absorbable, breathable, loose-fitting clothing in light colors. Exposed skin can speed up dehydration.

· Protect yourself from the sun by wearing a bandanna or skull cap to keep the sun from beating down directly on your head.
· Protect your skin with sunblock. Make sure it's water resistant so it won't run in your eyes if you're sweating. Use at least SPF 30 and make sure you re-apply often during your ride!
· Know when to stop! Dizziness, flush, weakness, and cramping are all signs of heat exhaustion. If you're riding with friends, know the signs and watch out for one another. In extreme cases, seek medical help!
Harley-Davidson has a complete line of functional, high-performance riding gear that will help you cope with any weather extreme. Made for riders, by riders, HD performance wear is designed to keep you cool. It helps regulate the body temperature to keep you cooler and more comfortable in warm weather. Moisture-wicking and anti-microbial fabric keeps the body cool, dry and comfortable while eliminating bacteria and odor