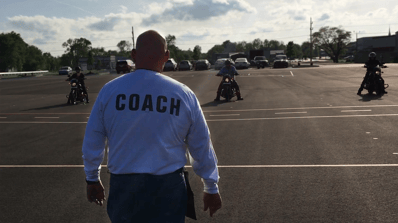 Figuring out how to ride a motorcycle on your own is definitely possible. Figuring out how to ride it safely- well, that's a completely different story. For myself, I learned how to operate a motorcycle a few years back, and I did it how anybody else today might go about picking up a new hobby: Youtube.
How Not To Learn
I had no experience with a manual transmission; didn't know what a clutch was, let alone how to use it. In fact, I bought my first motorcycle before even considering how I was going to learn to ride it. I walked into a dealership out of sheer curiosity, fell in love with a pearl-white beauty, and had it delivered to my driveway within that same week. Did I jump the gun a little? Sure. But how hard could riding a motorcycle be?
Within the 24 hours prior to her delivery, I had consumed as much information from video tutorials as my brain could possibly contain. I practiced the clutch-shift-throttle motions over and over until it practically became muscle memory. I was so confident in myself and could hardly wait to get on my new baby for the first time.
I'll never forget the first time I started her up. My 10-year-old son and his friend, Justin (who grew up around Harley's and probably knew more than I did about motorcycles), were standing in the driveway when my brand-new cruiser emerged from the truck. Not eager to embarrass myself in front of the delivery guy, I waited until he pulled off before I swung my leg over the bike.
I sat there for a few minutes, excited in anticipation for the freedom and adventure that awaited me. I looked up toward the garage- about 40 feet ahead of me- and decided that reaching it would be our first journey together. But as I looked back down toward my hand controls, I realized that in all my perceived learning, I must have overlooked how to simply start the bike.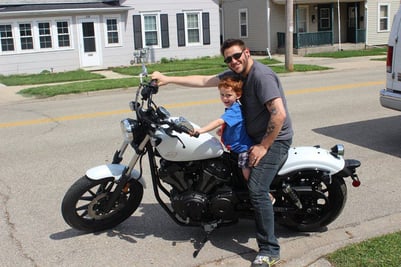 Luckily, Justin- the 11-year-old from down the street- was there to offer some neighborly advice. "It's that button there," he pointed toward a switch near the right hand-grip. I pushed it and was instantly filled with adrenaline as I sat above the roaring engine. Confident in my Youtube education (and after overcoming that one minor obstacle) I pulled in the clutch lever and began to go through the motions just as I had rehearsed. Not but five seconds later, I found myself climbing out of the hedges beside the driveway.
Determined to get it right, I picked up the bike and kept working at it until I was able to ride with more proficiency. Eventually, my bike became a daily commuter to me- but it didn't happen without a few scares and a little bit of damage.
What I Learned (from "learning" on my own)
What I didn't realize until much later on is that most (if not all) of those scares could have just as easily been avoided if I had just taken a rider safety course- specifically, the Harley-Davidson® Riding Academy New Rider Course.
Okay, full disclosure, I am an employee here at Southside Harley-Davidson, but this is far from a promotional testimony. Although I began riding several years ago, I had never actually received my motorcycle endorsement (oops), and being one of just a few employees at a Harley-Davidson dealership who couldn't legally operate a motorcycle was a somewhat isolating position to be in. So, I signed up for the Riding Academy, with the expectation of flying through the course and graduating with honors (FYI, there's no such thing).
What began as a journey to become a legal rider became an experience that was far more valuable than just a stamp on my driver's license.
Going in to the course, I was pretty confident in myself; having ridden for one entire summer, I was sure that I knew how to operate a motorcycle just as well as anyone else in our group. As we took turns introducing ourselves and detailing our riding experience and what each of us hoped to take away from the course, I was quite surprised by the diverse mix of new and experienced riders. I was actually a bit confused at first, wondering what someone who had ridden for 10 years could possibly acquire from a basic riding course.
As it turns out, we all had something to gain- but some of us didn't realize that yet.
It wasn't until we began diving in to the classroom exercises that I realized how little I knew about motorcycle safety. Yes, I knew how to operate my bike, but riding (for those who'd like to survive, anyway) is more than physical motions; it's a complete, unbroken awareness of the world that moves around you; it's anticipating how your environment may change in the blink of an eye, and mentally formulating how you'll respond to it; it's the responsibility of maintaining the mindset that you are always at a disadvantage and that one wrong move could have a rather unfavorable outcome. If that makes you a bit nervous, that's good- because that means you'll likely take motorcycle safety seriously.
Passionate Coaches
Safety is something that the coaches really tried to drive home in each of us. Not to scare us, but to open our eyes to the smallest factors that could impact us for the rest of our lives. What I found so captivating about the classroom portion of the Riding Academy is that our coaches didn't simply teach the lessons from the book like a robot; they preached it like it was the Gospel; they spoke passionately from decades of riding experience and genuinely believed every word they spoke to us. They made believers out of us.
By the time we hit the range and got on our bikes for the first time, each of us- including the more seasoned riders- had become better equipped and prepared for the challenges ahead. But some of us (yes, me) had a few bad habits left to break.
In 2015, I took a pretty nasty spill going into a left turn. In fact, I was riding home from work- probably for the hundredth time- along a very familiar route. I stopped completely, checked left and right at least twice, triple checked for oncoming traffic, and proceeded to turn on to my own neighborhood street. About half-way through the turn I caught a peripheral glimpse of a car coming toward me in the oncoming traffic lane. I turned my head toward the car, became fixated on it, and went down on my left side.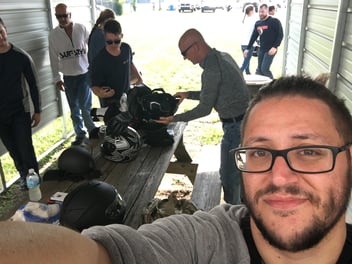 Not long after, I sold my bike and tried to forget the whole thing. But I spent the next three years replaying that dump in my head, trying to figure out where the hell that car came from. Truth is, it doesn't really matter. I became fixated on that car and, on a motorcycle, your body takes your bike wherever your eyes are looking. That's a lesson that I wish I had learned long before the Harley-Davidson Riding Academy. In fact, if finally being able to understand the reason I went down that day was the only thing I learned from the course, it would have still been worth it.
Now, most of us were fortunate enough not to have a fall and embarrass ourselves out on the range, but we had our fair share of screw ups. You wouldn't think that- with only two days on the bikes- each of us could get any one-on-one time to address our shortcomings- but, even with 12 individual riders revving for attention, it felt as if we had our own personal coach. They were patient, understanding, compassionate and genuinely caring. They wanted us to succeed as badly as we did.
A Supportive Group Of Classmates
The whole atmosphere was invigorating; not only did our coaches cheer for our victories but, through their passionate energy, they inspired the entire group to celebrate as a team. I couldn't imagine a more supportive and motivating environment to learn how to ride.
By the time we took our skills test, there wasn't a single nervous tremble in my bones. In fact, I've never felt more comfortable taking a test (let alone a motorcycle skills test) than on that final day of the Riding Academy. Even in front of my peers and coaches, I couldn't have been more calm and collected. It was like being in the presence of family, knowing that literally everyone around you is rooting for you to succeed. Seriously, when was the last time you took a test at the Bureau of Motor Vehicles and the customers and staff cheered for you when you passed? Yeah- doesn't happen.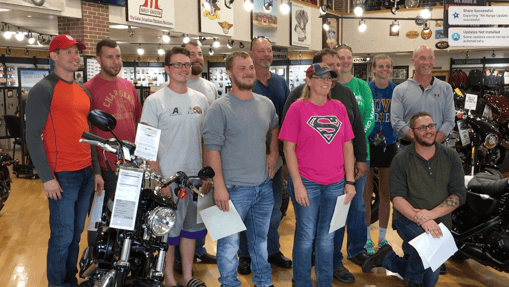 What You Take With You
There's an incredible satisfaction when you graduate from the Riding Academy and earn your motorcycle endorsement. It's so much more than just another letter added to your driver's license. It's symbolic of hard work, perseverance, and dedication to safety. It's something to be proud of, and something you can carry along with you wherever the road leads.
From the bonds that we formed with our fellow riders, to the valuable lessons that we learned from our coaches, the Harley-Davidson Riding Academy was well worth the cost. Sure, you can learn to ride from Youtube or the 11-year-old down the street, but neither will prepare you for the real-world dangers of the open road like the H-D Riding Academy.
While the entire experience was incredibly humbling, I now have more confidence in my own skills, abilities, and awareness as a rider than I had ever (realistically) had in the past. In fact, I can now sit more peacefully behind the wheel of my car, with greater awareness for the environment around me. Heck, I truly believe that anyone who comes within 10 feet of a motorcycle- rider, passenger, 4-wheeled motorist, etc.- should go through this course, even if only to understand the unique perspective of a motorcycle rider.