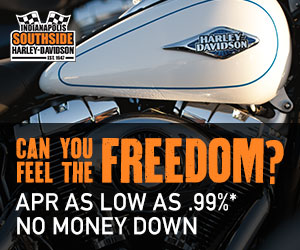 We think it's awesome that you're interested in a new Harley-Davidson motorcycle. We also know it sucks that your bank account isn't big enough to cover the entire up-front cost. Trust us – you're not alone. That's why Indianapolis Southside Harley-Davidson offers
flexible in-house financing
to all of our customers. Now you have another option when it's time to buy your next bike.
And now might just be the best time to buy. Right now, you can ride off on a brand new Harley for no money down and APR as low as 0.99%. That's it! Walk in with nothing, leave on a Harley.
You have less than a month to take advantage of this awesome offer. Once October 31 arrives, it's gone. Contact our Indianapolis Motorcycle Specialists for details.
This great offer is available for eligible customers on the following 2014 Harley-Davidson models:

At Indianapolis Southside Harley-Davidson, we make it easy to apply. Simply visit our dealership in person, or find a motorcycle financing application right on our website. Tell us what make, model, and year Harley you're interested in, along with any other pertinent information you think we should know. Online applications are quick and easy to complete, and are processed by Harley-Davidson Financial Services (HDFS) within a single business day.

While you're on our finance application page, don't forget to click the link to check current motorcycle insurance rates and get a free quote, all courtesy Harley-Davidson Insurance Services!

On the flip side, are you thinking about selling your bike, but don't know how to make your ad stand out from the crowd? Another cool thing we offer here at Indy Southside H-D is seller assistance. With us by your side, now you can offer prospective buyers the choice of financing through HDFS. Giving buyers the chance to finance your used bike sets you far apart from other private sellers, and gives you peace of mind knowing that the pros at Harley-Davidson are assisting in your sale.

We have a wide range of Harley-Davidson motorcycle models and styles, both new and used, in stock and ready to ride away today. If financing makes sense for you or you want to learn more about our Seller's Assist program, call, email, or visit our dealership today. We look forward to helping you!