I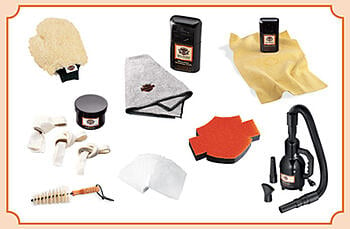 ndianapolis Southside Harley-Davidson offers lots of great tips, tricks, and advice for keeping your prized possession looking as shiny as the day you first rode it home.
What you need to clean your Harley Davidson:
Wash mitt
Microfiber detailing cloth
Softstrips
Soft detailing pad
Wheel & spoke brush
Softcloth
Soft drying towel
HOG Blaster motorcycle dryer

Essential Harley Davidson Cleaning Products:

Wheel & tire cleaner
Sunwash concentrate
Bug remover
Harley Glaze polish & sealant
Harley Black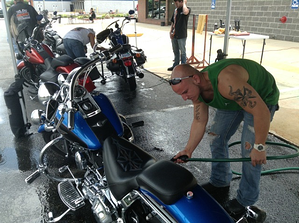 The Wash Process
1. Cool Down
Don't start cleaning until your motorcycle is cool to the touch.
Cold water can damage a hot bike.

2. Pre-Wash
Rinse your bike with clean water from the bottom up.
Do you have the proper cleaning and detailing supplies on hand?
3. Wheels & Tires
Rinse your wheels and tires, making sure to wet all surfaces with clean water.
Spray on wheel & tire cleaner andwait one minute.
Clean the wheels with your soft detailing pad or your wheel & spoke brush.
Rinse well.

4. The Wash
Use two clean buckets; one for cleaning and one for rinsing.

Pour Sunwash concentrate into one bucket and fill with water.
Fill your second bucket with just clean water.
Soak your wash mitt in the bucket with Sunwash solution.
Wash all bike surfaces; start at the top and work your way down.
Use Harley's bug remover to easily clean away those caked-on insects.
Rinse all bike surfaces; start at the bottom and work your way up.
Finish with a final top down rinse.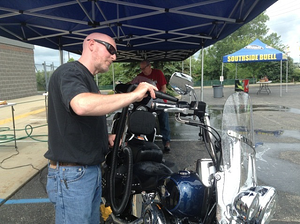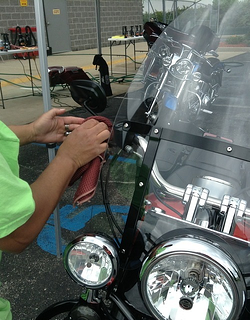 5. Drying the Motorcycle
Use your soft drying towel on all bike surfaces.

For faster, more effectivedrying, use the HOG Blaster motorcycle dryer.
Dampen your towel in the bucket of clean water, and wring out any excess water.
Wipe across the entire bike surface.
Wring out the towel often and continue wiping until your bike is completely dry.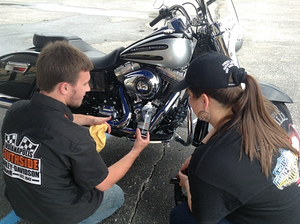 6. Polish & Seal
Remember that a well-maintained Harley repels du

st, dirt, bugs, and dirty water.

Use Harley Glaze polish & sealant with your softcloth ormicrofiber detailing cloth and follow the bottle instructions.
A softcloth is an absolute must for buffing your bike.

7. Add Harley Black to Tires
Harley-Davidson motorcycles are incredible machines that give you many years of riding pleasure. Also, they're valuable investments that are worth caring for properly. Proper Harley Davidson care will increase your riding pleasure and, ultimately, help retain your bike's value. Want to protect your bike for the long run? Check out these special protective products exclusively from H-D:
Harley Glaze poly sealant
Windshield water repellant
Leather protectant
Harley Preserve bare aluminum protectant wipes
Don't forget to like us on Facebook & Instagram, and sign up for our E-Newsletter so you never miss out on the excitement!