You love your dad, right? So why dishonor him on Father's day with golf tees or a silly necktie? He probably has enough of both, and doesn't want more of either. This is his day, so make it a Father's Day to remember.
With less than two weeks to go until the big day, you might not have time to ride around Indianapolis looking for things to buy. Thankfully, the perfect Father's Day gift can be found at one place: Indianapolis Southside Harley-Davidson. While we can't think of a better present to give pops than a brand new Harley, we understand a motorcycle might not be in your budget for the big guy. That's why Indianapolis Southside Harley-Davidson also stocks all the awesome parts, accessories, and other cool Harley-Davidson products your dad is sure to love.
Let's highlight a few of the gift ideas you'll find in stock today at Indiana's oldest and best-known Harley-Davidson Dealer, Indianapolis Southside Harley:
Harley-Davidson Tour-Pak Luggage & Saddlebag Interior Light Kit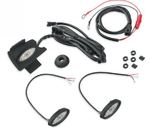 Is your dad a traveling man? Before he takes his Indianapolis Harley out on another road trip, equip him with a Tour-Pak illumination kit that turns night into day when he opens up his luggage carrier or saddlebags. These super-bright LED light pods mount right inside the bags, and mean no more fumbling for gear when it gets dark outside. Each battery-operated pod features a 5-minute auto shutoff timer to conserve power when he needs it the most.
Harley Bike Wash Kit

Long rides leave dad's Harley looking dirty. Cleaning up is never a chore with the Harley Bike Wash Kit. It's packed with everything he needs to keep his motorcycle looking like the day he bought it. The Harley Bike Wash Kit includes:
Sunwash Bike Soap
Bug Remover
Wash Mitt
Bug Eater Sponge
Synthetic Drying Chamois
Microfiber Detailing Cloth
Harley-Davidson Helmet Hanger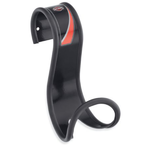 Motorcycle helmets can be expensive. They're also as bulky to store as dad's favorite bowling ball. Protect his helmet and get it out of the way with the Harley-Davidson Helmet Hanger. This ingenious storage hook comes in two shapes, and both work with any type or size of helmet. Hang the S-hook from a closet rod, or mount the J-hook to a wall. The hooks get your dad's helmet off the ground, which allows air to circulate inside, keeping liners fresh and dry.
For Father's Day deals going on in your favorite local Indy Harley store, check out our Motorclothes Weekly Flash Special. But hurry, these deals don't last long!
Not sure which one of Southside's many Indianapolis Harley-Davidson accessories to choose for dad? No sweat! Call or visit us and talk to a sales associate for friendly, expert advice. You can always opt for a Indianapolis Southside Harley-Davidson gift card and let dad buy whatever the heck he wants!
No matter which gift you decide, a genuine Harley-Davidson product from Indianapolis Southside Harley-Davidson is the perfect way to give your dad the Father's Day he deserves.