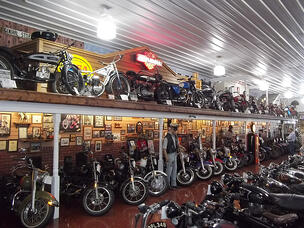 Jim Kersting a long time Harley dealer in North Judson Indiana has a nice 40,000 square foot facility, a portion being Kersting's World of Motorcycles Museum. Of which 10,000+ square foot is a separate museum of motorcycles and other related memorabilia. This wonderful museum is open to the public. I have visited the museum and had the pleasure of meeting Jim Kersting personally, on several occasions now. Jim shared with me an interesting story about the oldest Harley-Davidson motorcycle in his collection.
It seems his mailman heard of an older lady in the Logansport IN area who had a very old Harley Davidson. This Harley had been in a farmhouse attic for decades. Then it was removed from the attic and stored in the basement for about 10 years. At that time there had been a death in the family and it was being discussed to take the cycle to the dump. Being a serious collector of all sorts of motorcycles, especially Harleys, Jim thought he would check this rumor out.
He approached the owner of the old Harley, and she invited him to the basement to take a peek. What Jim found was a 1910 Harley-Davidson, which had been partially disassembled. The engine was out of the frame and the wheels removed as well. It showed signs of normal wear and tear, but all the parts seemed to be there. One oddity about it was that the front fender had nearly no paint on it. The rest of the old machine still had the original paint on it. She advised Jim that her father had perhaps bought it new.
Jim advised her that he was interested in buying it. She told Jim that she had talked to a man in North Carolina over the phone and he had offered her $500.00. She had not made any commitment to sell it, but told him that she would think about it. Jim decided to make her an offer. He said "Ma'm, I won't give you five hundred dollars for the bike, but I will give you three thousand six hundred dollars for it." The lady was quite pleased with this new offer. However out of fairness she asked Jim to talk to the man in North Carolina and give him a chance to offer more or decline from buying it.
The Lady called the man in North Carolina and handed Jim the phone to talk to him. Jim told him he was making a higher offer of $3,600.00 and asked him if he desired to make a higher offer. Ultimately, Jim and this man made an agreement that Jim would buy the motorcycle for $3,600.00 on his behalf. Then an agreed time was set that he would come from North Carolina to reimburse Jim and take possession of it. Jim paid for it and stored it for the man but after an unreasonable period of time the man in NC did not keep his side of the agreement. Several conversations took place but he continued to break his word pertaining to their agreement. After realizing that the man in North Carolina was messing with him, Jim decided he was keeping the bike and this whole discussion was over.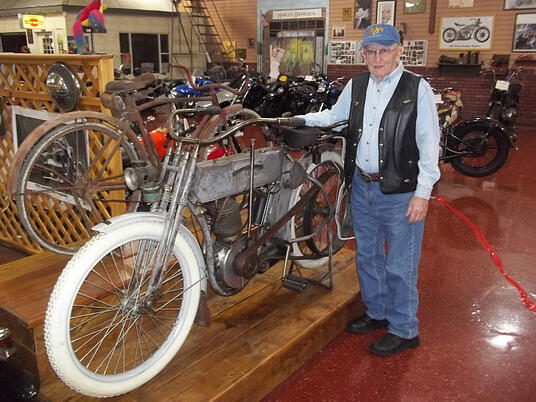 Mr. Kersting and his 1910 Harley-Davidson motorcycle
Jim took the motorcycle to his dealership, it was re-assembled cleaned up and eventually a very talented craftsman/artist painted the formerly stripped front fender to match the distressed old original paint job. You have to look very close to see difference, it was amazing! Jim and his son bolted up the motor into the frame, then added fresh gas and oil. They started peddling the old scoot and soon with a little adjusting, it was running. Soon thereafter they felt it was ready to ride and in their excitement, despite it being an Indiana rainy day, they rode around the shop parking lot in the rain, with much delight.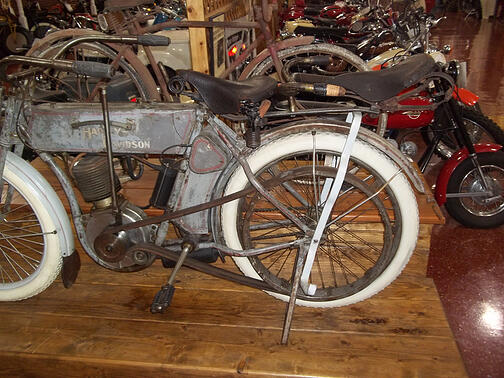 This old Harley has an interesting accessory. It is a vintage seat set up for riding two-up. It is bolted to the frame and is actually a rear tandem seat with a place for the passenger's feet. Mr. Kersting and I agree that this vintage tandem seat may actually be more rare than the cycle itself.
Sometime later after Jim had gotten the cycle put together and running, the gent from North Carolina called and said he was going to come up to Indiana and get the old Harley. Jim advised this party, "Hey, you better bring an Army with ya." The man was never heard from again.
Two-up Riding Accessory: Rear Tandem Seat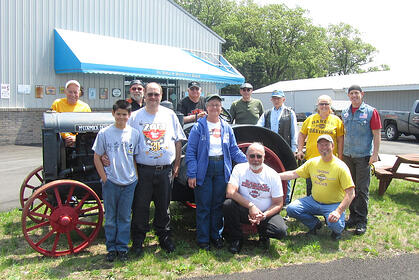 It was delightful to do a fun group ride with my Southside H.O.G. Chapter #1242 in May. Our ride captain had called ahead and Mr. Kersting met us at the museum with a fresh pot of coffee and hospitality that was par-excellent. Such gracious hospitality as is always rendered at my home shop of Indianapolis Southside Harley Davidson.
Our group was given a personal tour and many questions were answered. I asked Mr. Kersting which cycle was his favorite and with a smirk he answered, "oh I guess the last one I just bought." Then he got serious and said he was very fond of his original 1957 Sportster. 1957 being the first year this model was made.
Harley Dealer, Bob Schulteti of Indianapolis Southside Harley Davidson also has a smaller, but nice collection of vintage Harleys. His collection covers nearly every decade of production. On special occasions these machines are moved from the mezzanine display area and brought down on the floor for folks to get a closer look and enjoy.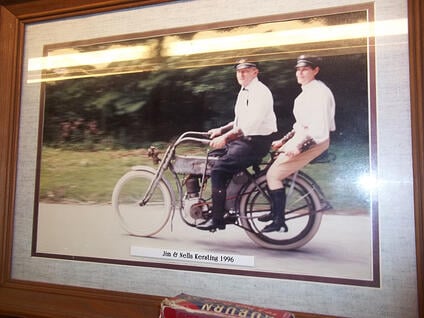 My personal favorite image is of Mr. Jim Kersting and his deceased wife Nella, riding the old 1910 rescued Harley-Davidson in 1996.
This piece is dedicated to the memory Mrs. Nella Kersting. She was the love of Jim's life. Nella and Jim were in a motorcycle accident in 2003. During this incident Nella passed away and Jim was critically injured. Jim survived and loves being the curator of his museum.
- Randall K. (Randy) Wilson