We have invited a guest blogger to share some of his stories with us. In this first post Randy will be telling you a little about himself.
It was eighteen years ago that I began my business-relationship with Indianapolis Southside Harley Davidson Sales and Service (ISSHD), and my life has never been happier.
This beginning was in 1994 at the old shop on South Meridian Street. Like many folks I had owned a motorcycle when I was a young buck. Job demands, family responsibilities, and an industrial accident led me to sell that motorcycle in 1979. Fast forward 15 years to 1994, I wanted to get back into riding.
Working as a skilled tradesman in manufacturing, I was very interesting in what was going on at the Harley-Davidson Motor Co. Even though I did not own a cycle I enjoyed reading publications about the motorcycle manufacturing industry - particularly about new product development and rider reviews of new motorcycles. However, even better than that was talking to the folks that owned them and rode them. One person in particular was my co-worker friend Allan Smith aka "Smitty", a long time Harley-Davidson owner and enthusiast. Smitty became my mentor as I eased back into cycle ownership and riding.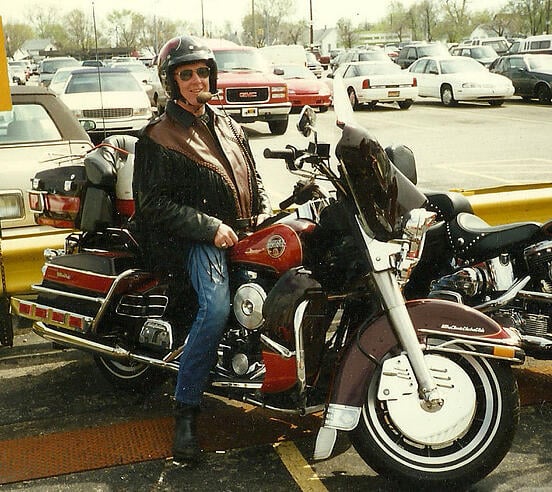 Allan Smith
By 1994 the Evolution V-2 engine was a tried and true component of the beautiful new motorcycles that the Motor Company produced. A book could be written about the many accolades and praises the rugged Evolution V2 engine was receiving. Isolation engine mounting and the ribbed belt drive was also "icing on the cake" in the bigger picture of these major improvements. I was convinced, hands down, that my next machine would be a Harley-Davidson, brand new from the factory.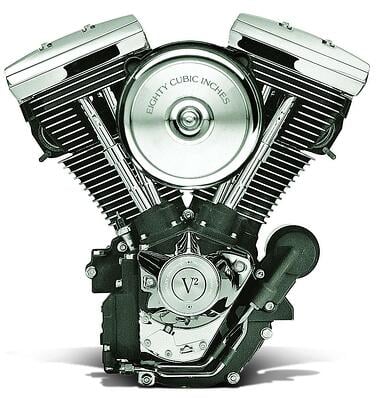 Evolution V-2 Engine
In order for this agenda to come to fruition I first had to decide which model I wanted. Golly how can you order a cycle if you don't know what model you want? Smitty had advised me to "do my homework" and make sure I pick out the model that I would really like. In that it would be an expensive extra and I wanted to be happy I followed every word of Smitty's advice, (I have never regretted this for a second).
Now I was on a mission! I went to ISSHD got a new sales catalog and an accessories catalog and buried my nose in this. Once in a while I came up for air to get Smitty's take on something. In that I was very much gainfully employed at the time I could really bag any model I desired – anything from an 883 Sportster to an Electra Glide Ultra Classic. Indeed I was thankful to be a blessed man with a good paying job and good health. Also my father had instilled wise money management concepts in his rendered personal business classes.
Initially I was leaning toward the Heritage Softail Classic. Its leather bags and nostalgic details put me to mind of the old Panheads that I remembered as a lad. As a lad I loved the sound and all the accessories that many of these bikes had. Even an occasional foxtail attached to a machine would add that extra touch of creativity by the owner/rider. I shared with Smitty my interest in the Heritage Softail Classic. Smitty boasted that they were nice bikes, and you could have a lot of fun riding one. Then he asks me what my riding agenda was and I told him my agenda was "all phases of riding, even long trips sometimes."
Smitty reminded me that he had always rode "Dressers" (big FLH type bikes) for over 40 years. Smitty pointed me into the direction of the Touring Frame Group and presented his overview of why he loved and preferred them. At that time there were 5 models in the touring frame group in the catalog. The models with the tour-packs and the fairings did not appeal to me that much. However, to me the Road King really stood out!
I had seen just a few of these around a couple shops which people were riding. Then I saw this image in a Harley-Davidson catalog and boy was I smitten.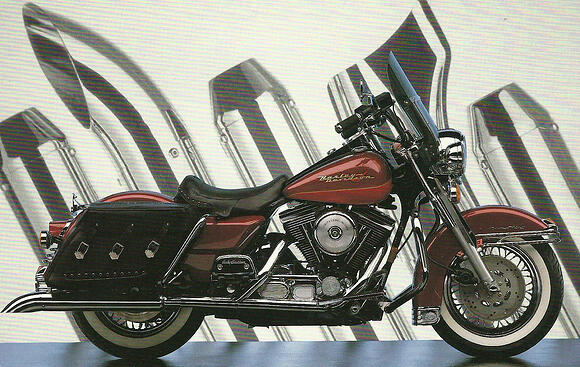 Catalog Image of a 1995 Road King FLHRI
Yes it was a Road King image with some catalog accessories and boy did it spin my beanie. A very learned scholar had advise me that the Motor Company was trying to capture the look of about a 1965 Electra Glide with that of a Road King. My mind was clear; it would be a Road King for me! I went to ISSHD with undue delay in October of 1994, placed my order for a 1997 FLHRI in Violet Pearl and took delivery in March of 1997 (long waits for new Harley's back then was commonplace).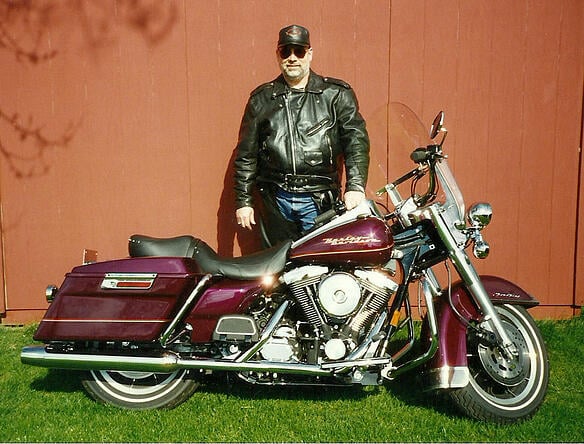 1997 Roadking FLHRI (Violet Pearl)
- Randall K. (Randy) Wilson