Could you imagine a world without the freedom to ride? What if the exhilarating rush of motorcycling had died on the treacherous battlefields of 1940's Germany and never evolved into the winding roads and raceways we so freely blaze today? Oh, what a (quiet) world it would be.
Luckily for us, our distant ancestors recognized the potential for something much greater hidden within those post-war motorcycles, igniting a passionate flame that would be entwined within the DNA of generations to come. It would be their children- and theirs after them- who would be trusted to nurture that fire and keep the spirit alive.
Although that roaring community of motorcycling legends encompassed riders from all over the world, many of these great names straddled their first bike right here in the state of Indiana- and they'll still jump at the chance to tell you the story.
This February, the Indiana Motorcycle Expo will be back again for its 28th year at the Indiana State Fairgrounds, with a fleeting opportunity to hear the first-hand accounts of some of Indiana's most recognized Pioneers of Hoosier Motorcycling.
---
A Few Names From The Blazing Trails
Bob Schulteti

When your father inadvertently stumbles into a job at Harley-Davidson® as a 16 year-old kid (George Schulteti, 1922), it's pretty likely that you're going to inherit the adrenaline gene, too. As a young teen, Bob swept the floors and worked various odd jobs around his father's dealership, Harley-Davidson Sales & Service (the oldest H-D® dealer in Indiana, now Indianapolis Southside Harley-Davidson) and, in 1948, entered his first race- an English Trial in Butlerville, Indiana. He won.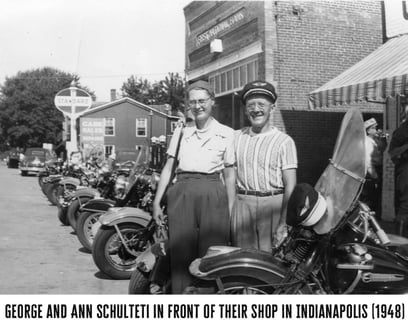 Bob would go on to race in many more events over the next few decades, including short track, flat track, hill climb, enduro and more, until finally rolling off the throttle (in racing, anyway) in the late 60's.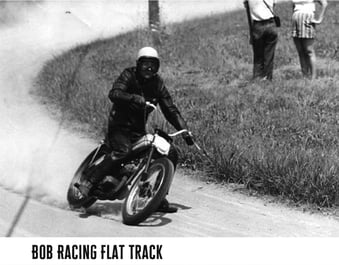 Of course, his legacy could never be complete without taking over the family business in 1981, where he proudly continues to serve the local community as President of Indianapolis Southside Harley-Davidson.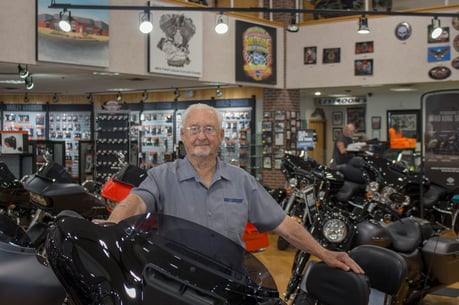 Read more about Bob HERE
Tim Weaver
As a 13 year-old boy, he literally starved himself for the sake of riding, setting aside his school lunch money for his motorcycle fund. In fact, before even riding a motorcycle, he knew that he wanted to race one. He would hang out on the south side of Indy- where the motorcycle trails were- and shoot the breeze with a few of the riders, eager to take in as much information as possible.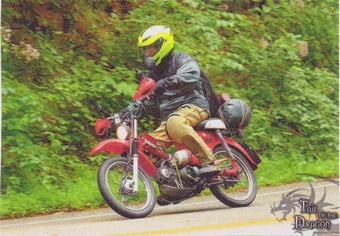 It came to a point where he just couldn't stand not having some kind- any kind- of motorized bike. So he traded a roll of pennies for an old Briggs and Stratton engine and, with a little ingenuity, mounted it to a bicycle frame and voila- a do-it-yourself motorcycle. It certainly wasn't an authentic Enduro, but Tim recalls the first time he hit 15 MPH as being "the greatest sensation" he'd ever felt.
Of course, it didn't last long. Not long after her maiden voyage- and after hitting the trails a few times- the "beast" broke down and Tim sold her for parts. But he had tasted just enough to inspire his thirst for more.
Read more about Tim HERE
---
The Future Of Motorcycling
Sadly, motorcycling is becoming less and less attractive to our more recent generations, which further emphasis the need to re-ignite the once-burning flame these pioneers kept alive for so many years. Recognizing the importance of preserving this legendary pastime and inspire younger generations to ride, the Pioneers of Hoosier Motorcycling have enlisted on a mission: to compile their fragile memories into a documentary that can be shared with the world.
Learn More and Donate To The Pioneers' Project HERE