If you're thinking about buying a new Harley-Davidson motorcycle, then test riding at Indianapolis Southside Harley-Davidson is the best way to get a feel of exactly what you want. Whether you're looking at the new 2017 H-D Road King to test out that Milwaukee-Eight engine or dreaming of a Street Rod to ride on your morning commute, test riding will give you that extra push needed to make that big purchase with confidence. With new 2017 models and the Milwaukee-Eight engine, test riding these bikes is a definite must and something that you have to experience to believe.
Test riding is something that we at Southside Harley offer on a daily basis. As long as the weather permits, you can come in during store hours and request to ride. It's not mandatory to schedule a ride in advance, but it does help to ensure that we have the bike that you are hoping to ride.
Requirements
In order to ensure a safe ride, there are some qualifications and items you need. These include: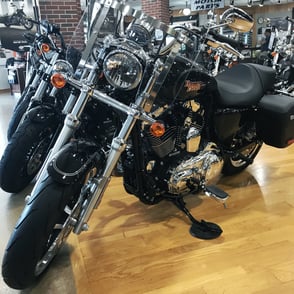 -Be at least 18 years old
-Valid license with motorcycle endorsement
-Proper riding gear including:
1. Helmet (DOT approved)
2. Long pants (no sweats or jogging pants)
3. Jacket or long-sleeves
4. Gloves (full-finger riding gloves)
5. Boots or over the ankle shoes (no open toes)
Southside H-D has you covered if you're dreaming about taking home a new Harley. Test rides take the what-ifs out of buying a bike. Click the button below or stop in Indianapolis Southside Harley-Davidson today to test any of our available models.