Harley-Davidson and Southside H-D want to prove that motorcycling isn't a boy's club anymore. Ladies, if you have ever been interested in learning more about riding, we have the perfect opportunity, even if you've never been on a bike before.

Welcome to the Garage Party.

What's It All About?
Garage Parties were created for women with little or no riding experience. These events start with the basics – bike models, components, accessories, and riding gear. You'll even get the opportunity to start up and "ride" a Harley with the JumpStart Rider Experience.
Think of it as "Motorcycle 101." Our goal is to get you more comfortable with Harley-Davidson culture and the lifestyle that comes with it, and answer all of your questions in a fun, lighthearted setting surrounded by gals just like you.
Who Do I Bring?
Grab your girlfriends, but leave the boys at home! The folks at Southside will be hosting this event, and dinner, door prizes, and lots more fun is included. Remember, we want to meet women who are new to riding or have never ridden.
How Much Does It Cost?
This is our favorite question. Why? Because the Garage Party is FREE! You read that right … there is absolutely no cost to attend. All we ask is that you stop by Southside or visit our website to register for our Ladies Garage Party. Space is limited and reservations are required, so don't wait. The rest is on us!
Okay I'm In – What Else Do I Need to Know?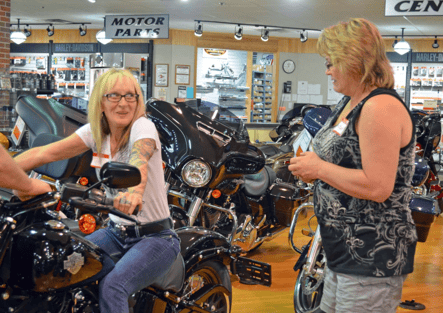 We can't wait to see you. This year, Southside is only hosting one Garage Party event at our Indianapolis dealership, and it's coming up soon on Saturday, March 4th. Doors open and dinner starts at 5:30 p.m., followed by door prize drawings at 6. The event runs until 9 p.m., and we'll open up our store for an exclusive opportunity to shop after that.
Whether you're new to riding or have never even touched a bike before, the Harley-Davidson Garage Party at Southside Harley is for you. Feel free to get in touch with us if you have any questions. Be sure to sign up now and tell your friends, too. We'll see you here on March 4th!