The Harley Davidson Remanufactured Engines Program will bring your engine back to life.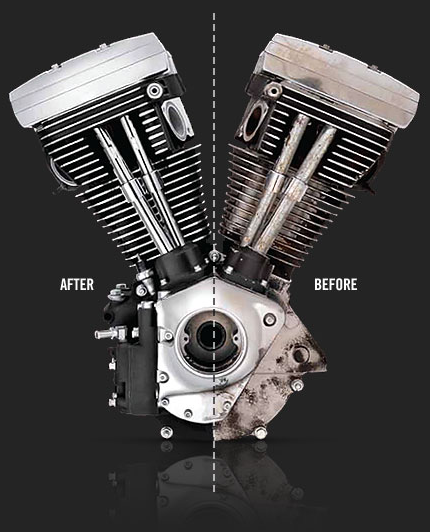 The heart and soul of any Harley Davidson motorcycle is the engine. If the miles have added up and your motor is getting tired now is the perfect time to get a Harley remanufactured engine. It's cold outside, so you won't feel as bad being without your bike over the winter months. Let the factory wake up your engine and come riding season, you're bike will be fresh, ready to go and running like new again.
While you engine is getting remanufactured you can take it a couple steps further by changing the engine finish for a new look. Finish options include:
• all-black
• silver polished
• silver and chrome
• black and chrome
NEW Reman Engine options:
Now available for Twin Cam® 96, 103,™ and CVO™ engines.


Upgrades for '99-'06 Twin Cam engines include Screamin' Eagle® Hydraulic Cam Chain Tensioner and Oil Pump Kit (excludes '06 Dyna® models).



STEP 1: Engine Removal & Shipping
Your authorized HD dealer removes your engine, packs it in a specially-designed container and ships it to the authorized Remanufacturing Facility.
STEP 2: Engine Disassembly



Engine components that can be cleaned and remanufactured to original specifications are saved, while others are discarded.

STEP 3: Engine Cleaning & Powder Coating
Reusable parts are cleaned and paint is removed. After inspection, parts are powder-coated to original factory standards.
STEP 4: Engine Machining
Parts are machined, bored and honed to exact tolerances. Only components that meet our strict standards make it this far.
STEP 5: Reassembly

All components are meticulously reassembled and upgraded to meet the latest specifications while retaining its stock configuration.
STEP 6: Engine Testing & Finishing
After passing a battery of tests, your engine is awarded a one-year, Unlimited Mileage Factory Warranty.
STEP 7: Engine Reinstallation
Approximately two weeks after its journey began, your V-twin is returned to your dealer for reinstallation with a new lease on life and its original VIN.
Remanufactured Engines Pricing will vary depending on what options you choose.
Stop by or call us at 317-885-5180 for more details.
*NOTE* This program is no longer available.