Indianapolis Southside Harley Davidson celebrated their
65th Anniversary on October 20, 2012.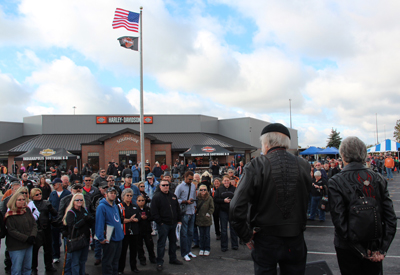 Special Guests, Willie G. Davidson and his wife Nancy flew in from Milwaukee, Wisconsin to attend the event. Willie G. Davidson is the grandson of Harley-Davidson co-founder William A. Davidson. They toured the departments, met the employees and signed autographs for them and the guests at the Indianapolis motorcycle dealer.

Southside Harley Davidson 65th Anniversary souvenirs were created as giveaways for the guests. There was live music by Marlin James Band, free food and special discounts on HD Licensed Products throughout the day. Their vintage motorcycle collection was on display outside along the building.
Four generations of the Schulteti family attended the Indianapolis motorcycle dealers event.

Two local artists, Pete Brown and Ben Olson, created eight large-format historical paintings at their events throughout the year. The final paintings were unveiled in the showroom during the event. They pay tribute to the Indianapolis motorcycle dealers history and Harley-Davidson's history throughout the decades. You can find more information about the artists on their Facebook pages: Pete Brown's Art and Ben Olson's Art & Design.

Indianapolis Southside Harley-Davidson has been a staple in the Indianapolis community since 1947. Second, third and fourth generation Schulteti family members are currently operating the dealership. They take great pride in knowing that their customers have grown accustomed to being a part of their extended family. Through the decades, they have seen many customers, two locations and four generations of family working in the business. They are proud to carry on the tradition of serving Harley-Davidson riders and continuing to support the lifestyle, the sport and the adventure of motorcycling.